automatic assembly systems &
mechanical handling equipment


automatic production equipment
TQC's automatic production line and mechanical handling equipment can be integrated with on-line test equipment for use in any manufacturing industry. Automatic assembly systems can be supplied into industries including the food, brewery, automotive, consumer and pharmaceutical industries. The customer requirement drives the solution with the automated equipment supplied to automatically assembly, test and handle the components as required.
The automated system can be as complex as is required, from a simple fixture with automated test to a fully automatic assembly system with platen transfer.
Each TQC unit is designed to provide the best automation solution for reducing labour costs, increasing output and eliminating manual handling concerns.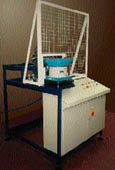 We supply equipment to meet your production facility needs, a simple bench top system, a more complex upgrade of your existing equipment, or a fully integrated production unit, TQC are able to provide a complete solution with a professional approach.
TQC Ltd. have performed a number of integrated production line automated projects resulting in reduced labour and increased quality of product.
The method by which TQC has succeeded in this area is by utilising existing technology modules and integrating proprietary equipment into the automated production system.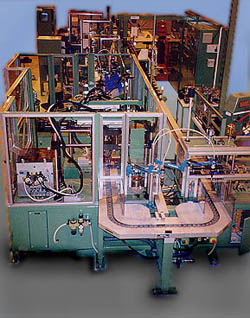 Although a modular design approach has been used throughout, the configuration of the equipment has been of a bespoke nature.
Many of the systems supplied have an integrated control system incorporating both PLC and PC control. As a result of the combination of controllers, sophisticated statistical process control has been included for real time monitoring of the production process and final function testing. In addition to 100% product validation and test full MIS facilities for production recording have been included in many systems supplied.
TQC's' integrated in-house expertise covering all aspects of design, manufacture and assembly in the areas of mechanical, electrical and control, providing a professional and experienced service to our clients.
The range of equipment and operations include the following:
Component handling via hoppers, magazines and bowl feeders.
Component handling via pick and place units.
Component transportation via conveyors, pallets and platens.
Vision systems using cameras and image processing software.
Blow feed screw driving systems.
Process welding, heat treatment, drying and curing processes.
Component washing and cleaning processes.
Hydro pneumatic crimping, swaging, piercing and staking.
Rotary indexing assembly machines.
Integrated gauging, weighing, testing and measurement stations.
Gluing, gas and liquid filling/charging stations.
Component marking and labelling.
Automatic component setting and adjustment.
Automatic reject stations.
Component packing, stacking, palletising and storage facilities.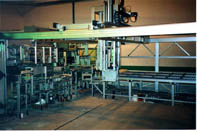 This equipment can be provided as separate modular machines requiring operator interaction. Alternatively the equipment can be supplied as part of an automatic or semi-automatic assembly line.
Key Benefits
25 years Experience in specialised test & handling equipment
Professional & Flexible approach to all engineering tasks bestowed upon us
All work completed in house - so the buck stops here!
24hour Customer support, backup and service call-out for all projects large and small
If you have a current project that you are already looking at, or you are considering improvements to your production in the near future, call us and we will be happy to offer our professional advice & visit you at your site.
TQC Ltd, Hooton Street, Carlton Road,
Nottingham, NG3 2NJ, United Kingdom
Tel: +44 (0)115 9503561
Fax: +44 (0)115 9484642
E-mail: sales@tqc.co.uk